We respond to water, flood, and fire emergencies 24 hours a day, 7 days a week. We are highly trained and certified by the Institute of Inspection, Cleaning and Restoration Certification (IICRC) in water damage cleanup and applied structural drying. We have a thorough knowledge of the categories and classes of water damage and how each of these factors impacts your property.
We use the latest technology and equipment in water extraction, drying and restoration. Using proven science to identify the extent of the water damage and to verify our results, we can further ensure that all materials are completely restored before we leave your home. You want your home back to the condition it was in prior to the water damage. At Complete Drying Company, we know just how to do that. We employ state of the art organic anti-microbial techniques to eliminate any odors and to kill and prevent the growth of illness causing mold and mildew.
Don't let standing water ruin your home and belongings! Call us for speedy response, professional service and fast, cost-effective water damage cleanup and drying!
When it happens to you, you don't have to ask yourself "My house has water damage" or "My house flooded, now what do I do?" Call (317) 852-7146 for the best water remediation services in Indianapolis and the surrounding areas.
Our Carpet and Pad Drying Process
Our multi-step process assures that all water and contaminants are removed from your carpet to prevent dangerous contamination. We work quickly and efficiently to return your carpet and home to its pre-flood state.
Our professionals understand how important it is to remove water quickly and thoroughly. We have a process in place to begin flooded carpet drying right away:
Step 1: Locate wet areas.
Water in carpets may not always be apparent to the eye or to the touch. We use moisture-detecting equipment to figure out where your carpets are wet and where treatment is required.
Step 2: Extract water from carpet and pad.
If water is just removed from the carpet, the pad may stay wet and cause unseen damage later on. Our process assures that the carpet and the pad beneath the carpet are thoroughly dried to prevent mold and water damage.
Step 3: Apply disinfectant if necessary.
Mold and bacteria can develop quickly in wet carpets. Our process kills any spores and organisms so that you can enjoy a clean carpet – problem-free.
Step 4: Dry carpet, structure and pad.
We use high-powered drying fans and other equipment to ensure that all moisture is removed from the carpet, the pad and the structure below. This allows us to ensure that there is no lingering water to cause damage to your home.
Step 5: Restretch carpet if necessary.
Flooding and subsequent carpet treatments can cause carpets to buckle or wrinkle. Our skilled providers use knee-kickers and power stretchers to restore your carpet to its smooth, fresh state.
Step 6: Clean carpet.
Your carpet will be thoroughly cleaned to remove any residual dirt, spores or cleaning products.
If you have an issue with flooded carpet in your home, there is not a moment to lose. Contact us immediately so we can remove the water and save your home from costly damage.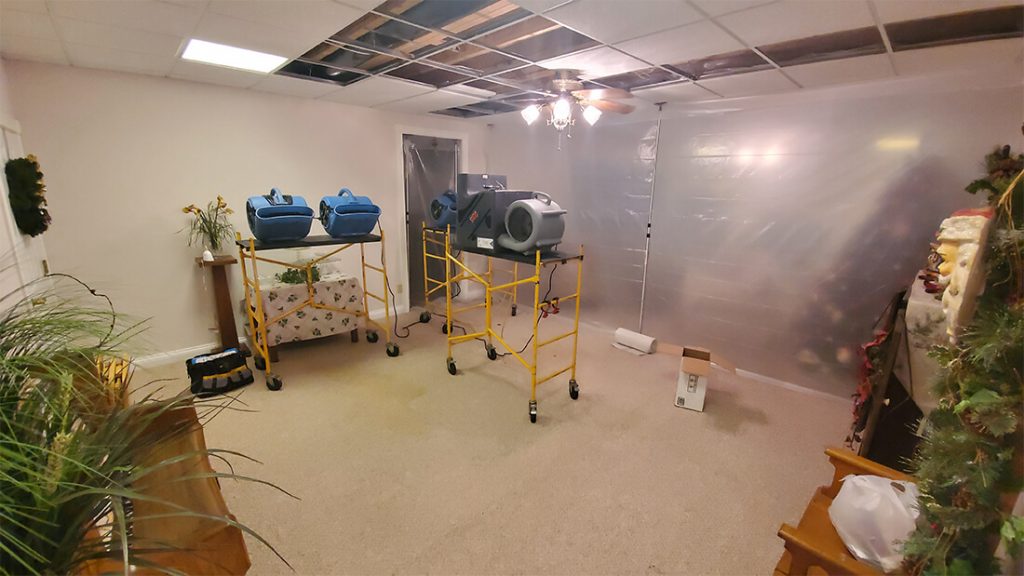 When it comes to water damage mitigation, response time is key. The longer water is allowed to remain in places it shouldn't be, the more damage can be done. Not only do your walls and floors rapidly degrade with water damage, but they then become the perfect environment for mold. Complete Drying Co responds to your emergency calls quickly, and our expert technicians perform your dry out exactly according to the science of water removal. No matter the extent of your emergency, you should call Complete Drying Co for the help you need.