A flood can turn a property owner's life completely upside down. Whether it's from heavy storms, a burst pipe, a plumbing clog or another source, water damage can wreak havoc on hardwood floors.
Depending on the source of the water, any number of contaminants can erode the finish and potentially destroy the wood. This is why quick response is essential to save hardwood that has endured water damage.
Complete Drying Company may be able to save your hardwood floor. In fact, we've restored water-damaged floors throughout Indianapolis to their original, pristine condition. Our team not only can repair, replace and refinish your hardwood floor, but we can also use dehumidification to prevent mold, mildew and dry-rot.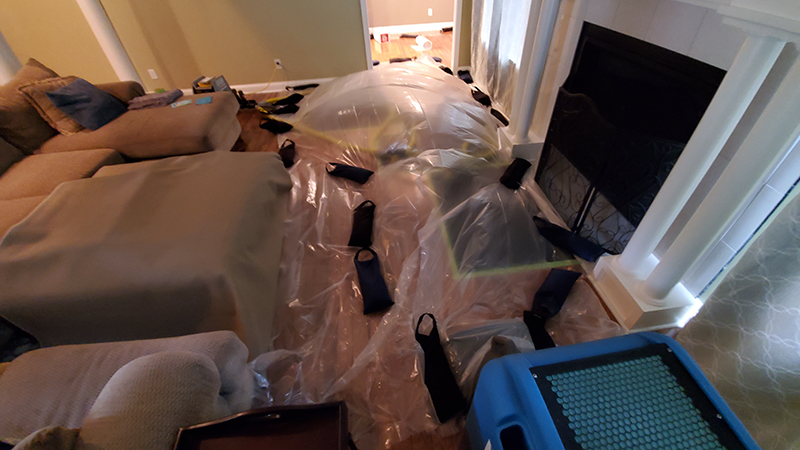 Our Hardwood Drying Process
Your hardwood floors add value and character to your home. But, in the event of a flood, saving this feature requires fast and decisive action. Information from the EPA says that mold can begin growing in as little as 48 hours after a flood. Whether you experience a burst pipe or a flood from excessive rainfall, we can begin removing water immediately to save your hardwood floors.
Our careful step by step process ensures that all water is removed and damage to your home is minimized. Our multi-step process:
Step 1: Locate and mark wet areas
You can't always see moisture that may be damaging your floors. We use moisture detection equipment to find water that may be hiding under the surface. Our crew marks the areas where water needs to be removed using low-tack, non-damaging labels.
Step 2: Install and secure drying mats and equipment
We put down drying mats and then secure them to get a tight seal. This step allows us to do a thorough and complete drying job. Removing all water is necessary to prevent mold or mildew from invading and damaging your property.
Step 3: Extract excess water
Our powerful extraction equipment pulls all excess water out of your floors. If water is left behind, it can cause flooring to warp or buckle, so we ensure that we use the most efficient equipment to get all water out.
Step 4: Drying in progress
We use powerful blowers to evaporate the rest of the water that may be lurking in your floor. 
When we are finished, we test again to ensure that all water has been removed and that your floors are completely dry. By acting quickly and doing a thorough job, we can save your flooring and prevent costly replacements.
For the last 19 years, we've been providing water removal services to our local community. We are available day or night when a flood emergency arises. Our trained staff always arrives in uniforms and marked vehicles for your comfort and security. If you have water in your home, do not hesitate. Contact us today for a free written estimate.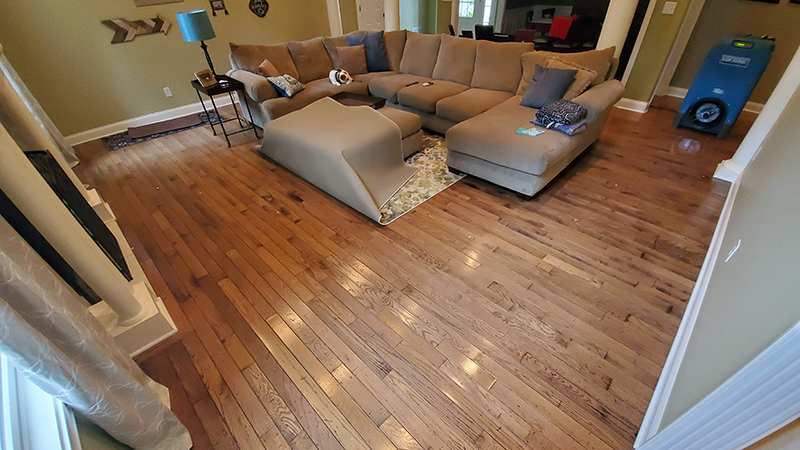 It doesn't take a catastrophic flood to destroy a hardwood floor. Sometimes, all it takes is a persistent leak to warrant repairs. That's why our contractors will assess the damage, identify the cause and prevent future destruction before restoring your property.
When a flood occurs, every second counts, which is why we offer a 24/7 emergency response line. If you've experienced a flood, contact Complete Drying Company immediately at 317-852-7146.
Identifying and Fixing the Source of the Damage
A house flood can occur from a number of different sources. Inclement weather can cause rainwater to enter a home, and faulty plumbing or a leaky roof can leave serious water damage. Our flood recovery services can stop the source of incoming water and provide quick, effective drying services to reverse the damage and prevent future issues.
Both during and after a flood, the overall level of humidity in the area rises. This not only can damage the hardwood but also can promote mold and mildew growth, which is why drying and dehumidification are critical parts of the water removal process.
Even small floods can leave contaminants that will erode your floors long after the water has dried. This is why a professional assessment is necessary after every flood—not matter how minor the damage may seem.
Hardwood Floor Restoration around Indianapolis
Caring for a hardwood floor requires regular refinishing. This will protect the wood underneath. If you properly maintained your floor before the flood, it may only require basic cleaning and dehumidification. But in more severe cases, the contractor may need to strip or sand the floor before applying a new finish.
If a serious flood has damaged your floor, it may require replacement. Fortunately, our IICRC-certified contractors understand modern restoration techniques, and we may be able to save your floor without replacing the hardwood.
Caring and Maintaining Repaired or Refinished Flooring
Professional hardwood restoration will return your floor's original luster and beauty. However, you must practice responsible care to maintain its appearance. For at least one week, avoid walking on the floor, and do not place furniture in the room for at least two weeks. Also, be sure to clean spills as soon as possible, and sweep and mop your hardwood floor regularly.
Hardwood Floor Drying and Restoration in Indianapolis and the Surrounding Areas
If a recent flood has damaged your hardwood floor, contact Complete Drying Company immediately. We will arrive as soon as possible and remove the water to prevent further damage. We can also provide recommendations for hardwood floor materials, stains and finishes. Call us today at 317-852-7146 to schedule as assessment.