After storms, floods or burst pipes, water can sometimes invade the walls of your home. Left wet, building materials can swell or warp. Every moment counts when it comes to water damage inside the walls. It's imperative to remove any moisture quickly, before materials can be damaged and mold and mildew can grow.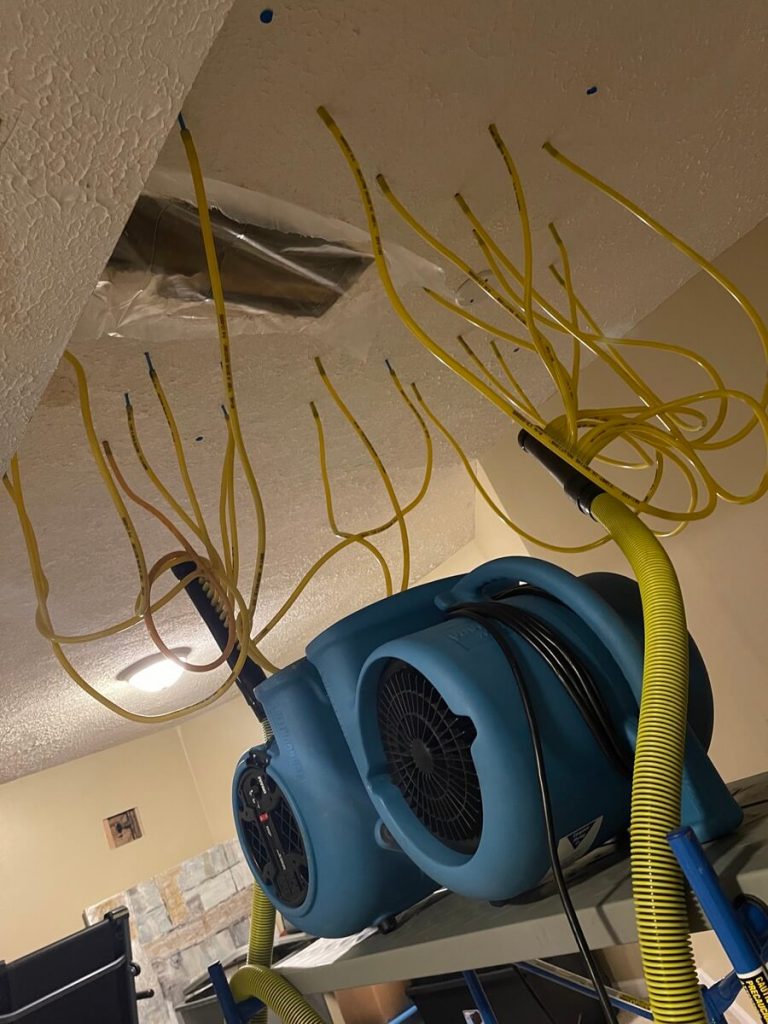 Our trained experts arrive at your home in uniforms and marked vehicles to perform a free written assessment. Once we know what needs to be done, we begin our state of the art practice to locate and remove any water from inside your home:
Step 1: Locate and mark wet areas on walls
It is not always possible to locate water inside your walls by touch or sight alone. We use specialized moisture detection equipment that will let us see where water is hiding inside the walls of your home.
We then mark the spots so that our team can get on to removal. Spots are marked with low-tack stickers to avoid further damage to your walls.
Materials like gypsum wallboard are usually able to be restored well without permanent damage. Handled promptly, your wall should retain all of its original strength.
Step 2: Install wall drying system
We then begin to install the wall drying system. We carefully remove the baseboard to give us access to the inside of the wall.
Then, we drill channels that can be used to install our wall drying system. By drilling at floor level, we can help prevent more expensive repairs. Drill holes can be easily concealed when the baseboard is replaced after drying is complete.
Step 3: Start the drying process
Our dryers increase airflow behind the wall, which can help speed evaporation. The drying process can take anywhere from several hours to a few days. By going into the wall in several places, we can ensure that your walls are dried evenly.
We specialize exclusively in water removal and drying services. For 19 years, Complete Drying Co. has offered emergency water removal in Indianapolis. If you have flooding and water damage in your home, you can't afford to wait. We provide free on-site estimates 24 hours a day. Contact us now for a free assessment.